Comments

0
Ochocinco's Summer Vacation Continues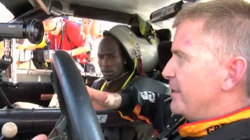 First, he was Chad Johnson. Then, he became Chad Ochocinco. Since the NFL has been locked out, Mr. Ochocinco has entertained us and as some will claim has annoyed us with his various antics. ESPN frequently finds themselves dedicated segment upon segment on Chad Ochocinco.
From bull riding and soccer drive-outs, Chad Ochocinco now wants to experience what Nascar is all about. Courtesy of Jeff Burton, Ochocinco flew at speeds reaching 150 to 160 mph at the Atlanta Motor Speedway. Ochocinco was quoted by the Associated Press as saying
"he has interest in the sport as an owner - for a No. 85 car, of course - but not a driver because I'd lose every damn day."
What's next on the Ochocinco summer vacation checklist? He has mentioned that he has an interest in wrestling an alligator. Why not? At least he is keeping busy during the NFL lockout.